Getting Started¶
Introduction¶
Welcome to the CentreStack Server Installation Guide. This guide describes installation tasks for CentreStack, the managed file synchronization and sharing solution.
CentreStack includes the CentreStack server, which runs on Windows server platform, and client agent applications for Web browsers, Microsoft Windows, Mac OS X, and mobile devices such as the Android and Apple iOS operating systems.
Overview¶
CentreStack is a managed file sync and share solution. It differentiates from other file sync and share solution (EFSS) by focusing on the security, control, file server and team collaboration. CentreStack does really well in the following areas:
maintain security and permission of NTFS permission on files and folders
provide on-demand access that honors read-only, and write permission in real-time.
mirror local network share on file server to team collaboration in the cloud
CentreStack is pure software built on top of the Microsoft Web Platform:
Windows Server,
IIS (Internet Information Server),
.NET Framework
WCF (Windows Communication Foundation)
Since CentreStack is built on top of Microsoft Web Platform, it integrates very well with Microsoft components such as NTFS Permission, Active Directory and File Server network shares.
It provides file access and sharing functionality through client agents for PCs, Macs, File Servers, Web Browsers, and Mobile Devices. The client agent software on Windows and Mac provide real drive mapping and volume support that contains many ways to optimize for WAN(wide area network) data transfer.
The services can be deployed in flexible combinations to meet different needs. There are two primary ways to deploy the CentreStack solution.
deploy CentreStack solution in the same network as the File Server and Active Directory server, in a single company deployment mode.

deploy CentreStack in a centralized location, such as in Amazon data center, or Windows Azure data center, or in a data center where MSPs (Managed Service Provider) have their infrastructure.
There are three different infrastructure components (logical components that can co-exist in same server). In the smallest deployment unit, the three different components can co-exist in one single machine (all-in-one deployment).
Web Node¶
If you have a hardware load balancer or other kind of load balancing, web node is not required. Instead worker node has web node functionality by default. The Web Node functions include Account Management, Sign-In and Load-Balancing services. Depending on the load, you may need 1 to N such nodes. Normally, we recommend for every 1 web front node, you should have 10+ worker nodes.

When you have small deployments you can skip web front nodes and combine them into worker nodes. The installation is the same for web node as well as worker node. If you do not need the Web Nodes there is no need to assign them in the cluster manager web portal.

Example: ACME Corporation deploys two web front nodes 'node1.acme.com' and 'node2.acme.com'. Each node is running a copy of CentreStack, connecting to the same SQL database.

ACME Corporation acquires a domain name (DNS) of cloud.acme.com which can be load balanced to 'node1.acme.com' and 'node2.acme.com'.

When users point their browsers to https://cloud.acme.com, their login page is directed to one of the nodes.

Note

If you have hardware load balancing available, you do not need to use web nodes at all.

Note

Windows 2012 comes with Network Load Balancing (NLB). If you use NLB, you do not need web nodes at all.
Worker Node¶
The worker node contains services like Web Browser Based File Manager, Storage Service Connectors, and more. Again, additional nodes can be added as the load increases. There is cache information located on each node, therefore, users will have an affinity to a single node once it is assigned.
Database¶
The database contains persistent information for the system.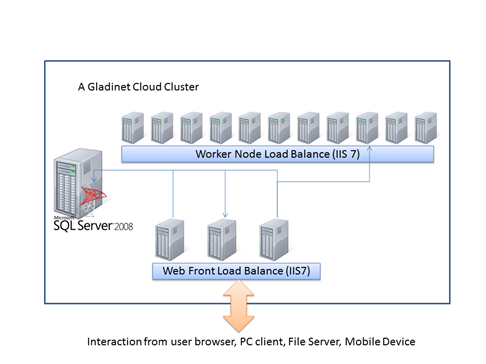 Note
If you have hardware load balancer or other kind of load balancer, you don't need web front nodes from the above picture.
Deployment Diagram¶
In this installation guide, we will deploy the solution based on the diagram shown below. If this is the very first time you are install CentreStack, it is recommend that you try the All-In-One Deployment on a single machine first. Once you are more familiar with CentreStack components and its functionality, you can start setting up a production environment similar to the deployment diagram shown below.
Note
For small number of users (< 1000 users), you can have one centrestack server that contains all the web node, worker node and database components and use it for production environment.
It doesn't have to be multi-server setup.
In this guide, we use Windows DFS Network File Share as the backend storage. If you are using OpenStack Swift, Amazon S3-Compatible or Windows Azure Blob, they will work as well. The Storage Configuration page will be different for different storage options.
In this installation guide, we will be using Windows Server 2012 R2, which is the recommended Server Operating System for CentreStack solution. (Other supported Operating Systems are Windows 2008 R2, Windows 2012 and Windows 2016)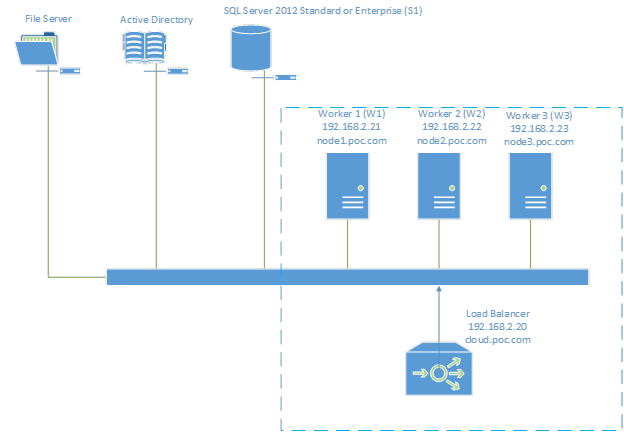 From a different perspective, including the clients and the ports, the diagram may look like this: