The CentreStack Backup Appliance
The Opportunity
On average managed service provider (MSP) simultaneously uses 4 different backup solutions for clients with different requirements and budgets. The combined expertise required to manage backup appliances, cloud storage, and licenses for users, servers and endpoints can be a burden and MSPs are looking for ways to opportunistically consolidate these solutions, reduce management overheads and devote more time to employees, clients and customers.
The Solution
CentreStack has always been known for its mobile access and secure file sharing solutions. However, features like cloud replication, version control, audit tracing, file change history, and date-based folder restoration have existed within CentreStack for a long time.
CentreStack now provides a simpler, more cost-effective backup solution by transforming an on-premises CentreStack server into an efficient backup appliance that stores snapshots of file server shares or selected folders from remote devices in the cloud for on-demand access.
For existing CentreStack deployments, cloud backup adds value as businesses get a consolidated platform that provides a full suite of mobile access, secure sharing and business continuity solutions.
---
Architecture
Using CentreStack as a Backup Appliance
The following data flow illustrates how the basic architecture functions for this solution.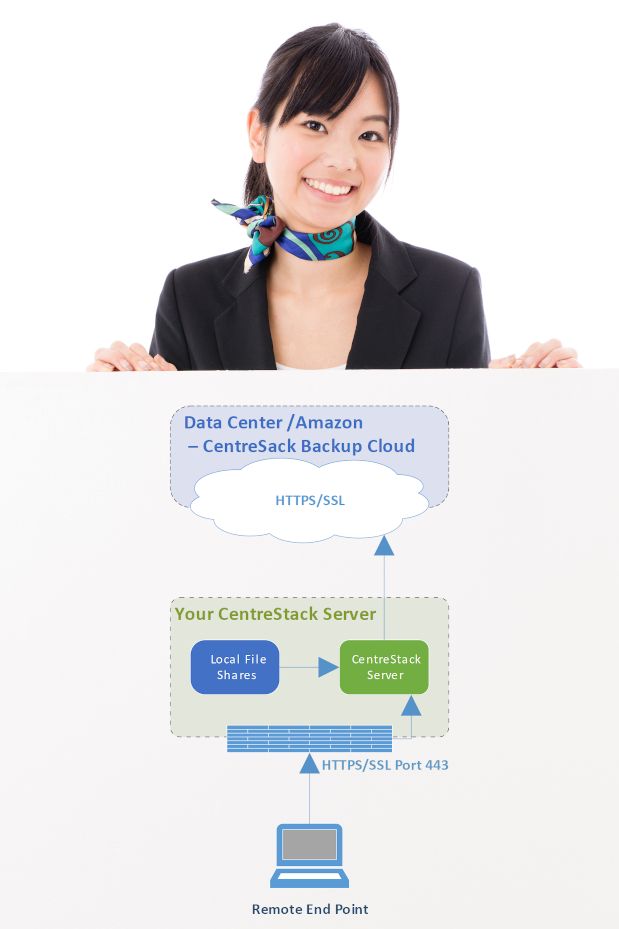 Enable Backup
For your CentreStack server, simply turn on Cloud-Backup feature.
File Share Backup
Local File Servers can be backed up directly via the CentreStack server to the CentreStack backup cloud (You also have the option to define your own cloud backup target)
Endpoint Backup
Remote PC's folders or Remote file shares have agents that connect to CentreStack via HTTPS/SSL for backup and access purposes.
Access & Restore
Access Files and Folders directly from CentreStack's backup cloud or restore them to the CentreStack appliance.